Evidence for the Effectiveness of Chiropractic
Numerous studies throughout the world have shown that chiropractic treatment, including manipulative therapy and spinal adjustment, is both safe and effective.
Vertebral Subluxation and Nerve Chart
"The nervous system controls and coordinates all organs and structures of the human body." (Gray's Anatomy, 29th Ed., page 4) Misalignment of spinal vertebrae and discs may cause irritation of the nervous system which could effect the structures, organs, and functions listed under "areas" and the "possible symptoms" that are associated with malfunctions of the areas noted.
Medical Research on the Spine and Nerve Related Problems
"Over the years chiropractors have experienced tremendous success in helping patients with all kinds of health problems. For the most part the general public thinks chiropractors are merely back pain doctors who relieve back and neck pain by "popping the back". Most people don't realize the implications spinal misalignment (or subluxations) has on their total health."
Below are representations of the Cervical, Thoracic, and Lumber sections of the spine and listed are some of the possible related problems associated with misalignment of the particular areas.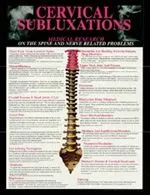 Heart Disorders
Vision/Blindness
Cranial Trauma
Facial Pain
Eye Jerking
Headache
Depression
Ear Buzzing
Dizziness
Fainting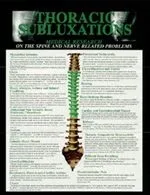 Myocardial Ischemia
Ulcers
Allergies
Abdonimal Pain
Heartburn
Asthma
Liver/Gallbladder
Kidneys
Hearing
Gastrointestinal Disease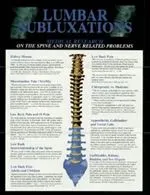 Kidney Disease
Menstruation Pain
Sterility
Low Back Pain
Appendicitis
Gallbladder Disease
Uretal Colic
These and other brochures are available in our office. Stop by to see how chiropractic care can help you.
Note: Every care is taken in the selection of the links/resources. However they are provided as a resource only and Pins Family Chiropractic cannot be held responsible for any content therein.